GEORGES ST-PIERRE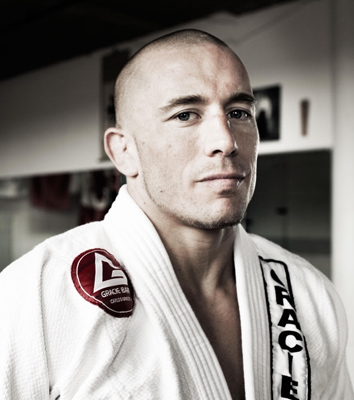 Georges "Rush" St-Pierre, also known as "GSP," is a Canadian professional mixed martial artist and UFC world champion who holds black belts in both Kyokushin karate and Brazilian Jiu Jitsu.

After seeing Royce Gracie fight in 1993 at UFC 1, Georges knew exactly what he wanted to do with his life and how he was going to reach those goals: he invested all his energy and all his time at becoming a better version of himself. He added fighting disciplines such as boxing, wrestling, and Brazilian Jiu Jitsu to his karate background and competed in his first amateur bout at age 16. He won that match, and continued his steady improvement. In 2006 he became the UFC Welterweight Champion. He lost the title in 2007 but subsequently regained it in front of his hometown fans of Montreal in 2008 and hasn't lost a single title defense since then.

Georges retired from the sport on December 13, 2013, holding the UFC record for most wins in title bouts and then returned to the octagon after a four-year layoff, on November 4, 2017 at UFC 217 in New York City (Madison Square Garden), where he defeated Michael Bisping by submission in the third round to win the UFC Middleweight Championship title, becoming the fourth fighter in the history of the organization to be a multi-division champion.

On December 7, 2017, after being diagnosed with ulcerative colitis, Georges vacated his UFC middleweight title and officially announced his retirement from professional MMA competition on February 21, 2019.
CARLOS MACHADO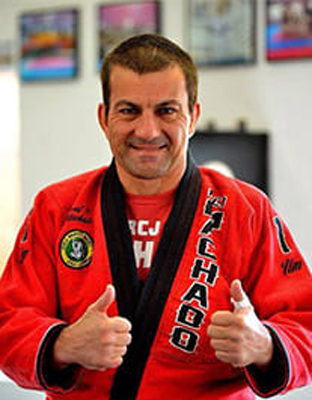 Carlos Machado is one of the pioneers of Brazilian Jiu Jitsu in the United States of America. Currently a Coral Belt, and promoted to Black Belt by Carlos Gracie Junior, Carlos Machado came to the USA in the early 1990's with his brothers where they formed the RCJ Machado Jiu Jitsu Association, one of the strongest & growing BJJ organizations in the world today.
Carlos Machado was born in Rio de Janeiro, Brazil. He is the eldest of the Machado brothers: Carlos, Roger, Rigan, Jean Jacques and John Machado.
The legendary Gracie family fighting tradition was engraved in the Machado Brothers from a very early age. Carlos Machado was no different from the rest of the Gracie's (his cousins), with whom he grew up, trained, and learned.
In 1988 Carlos's brother Rigan Machado moved to the United States to start teaching BJJ with the Gracie's out of their now legendary "Gracie Garage". Two years later, Carlos and John Machado joined Rigan in Southern California where he helped the Gracie family establish their academy.
After all 5 Machado brothers arrived in the USA they decided that it was best for them to part ways from the Gracie Jiu Jitsu banner to build their own legacy.
The Machado's moved from Torrance, CA to nearby Redondo Beach. They started teaching private lessons out of their own garage when a very special future student walked through their door, Hollywood and Martial Arts Legend, Mr. Chuck Norris.
In 1995, Carlos Machado had the amazing opportunity of filming Walker Texas Ranger with Chuck Norris in Dallas, Texas. Chuck invited Carlos to relocate with him and Carlos decided that it was time to spread Brazilian Jiu Jitsu to Texas and surrounding middle American areas.
Carlos Machado appeared in dozens of episodes of the Walker, Texas Ranger series during that period, portraying several different characters and usually getting beat up by his own pupil.
Carlos Machado is an award-winning Jiu-Jitsu instructor, having been inducted into the Hall of Fame multiple times. He is known in Texas and the Southwest region as the "Godfather of Jiu-Jitsu."
Before Carlos Machado relocated to the Dallas Fort Worth area, nobody was teaching Brazilian Jiu Jitsu. Today most of the BJJ lineage in the Southwest can be traced back to Carlos Machado.
JEFF SMITH
Jeff Smith is one of the, if not THE MOST, multi-talented martial artists of all time. Champion, Innovator, Manager, Teacher, Coach, Mentor, Leader…and the list goes on.
On June 17, 2016, Jeff Smith was awarded the rank of Grand Master by the Professional Karate Commission with his 10th Degree Black Belt by Grand Masters Glenn Keeney and Allen Steen. This came along with the additional signatures and approval of Pat Johnson and J Pat Burleson.
As one of the most popular and highly respected martial artists in the world, Grand Master Jeff Smith has influenced millions of Martial Artists around the world, both directly and indirectly.
Voted by his Top Ten peers as the Number One Point Fighter in the Nation in 1974 by Professional Karate Magazine, Jeff went on immediately to win the very first PKA World Light Heavyweight Kickboxing Championship title on ABC's Wide World of Entertainment.
All the while he was training the next generation of Inter-national Champions, coaching them to World Titles, as he managed and taught the instructional staff of the Jhoon Rhee Institute schools in Washington DC. As articulate as he is dangerous, Grand Master Smith has appeared before the camera as a multi-talented point fighter and PKA World Champion Kickboxer and as an expert analyst for the next generations.
His titles and accomplishments are far too many to list here.
ROLAND OSBORNE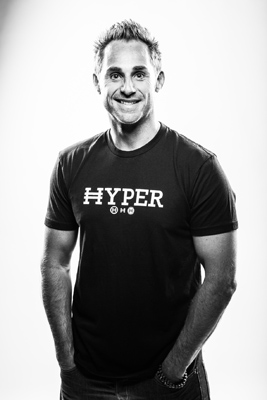 Roland Osborne's life mission is to reach, teach, and inspire
the world through the martial arts.
Roland runs multiple schools and organizations. He also hosted a T.V. show for Discovery Channel. He currently builds instructor teams and designs curriculum experiences for thousands of martial arts schools through Hyper Martial Arts.
His impact on the industry is massive. Roland has taught over 750 seminars, 10,000 instructors, and over 150,000 students during his 30 years as an instructor and business leader.
All adult attendees will enjoy the Martial Arts Athlete seminar
experience and training workshop.
Instructor Development Series
Instructor teams can look forward to a motivating seminar on teaching strategies, dynamic class plans, and powerful drills.
Learn more about Roland at:
www.HyperMartialArts.com
Let's Get Physical with Dropgym's Shantell Dayton & Lu Crenshaw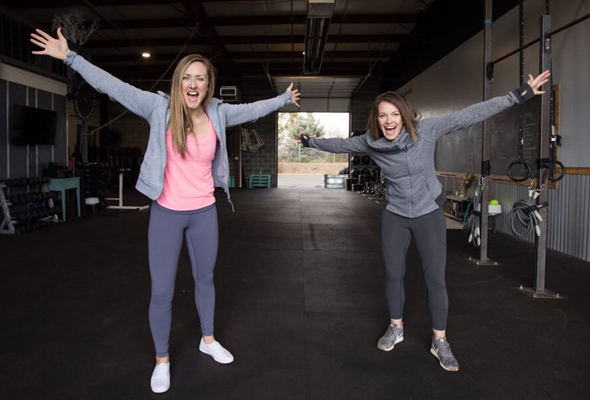 Shantell Dayton, alongside her best friend and business partner, Lu Crenshaw, set out to change the world one workout and real conversation at a time. This dynamic duo joined forces in 2015 with the vision of helping people become more connected and an overall better human through movement and breath. Dayton holds a 6th degree CNS black belt and is a lifelong lover of the arts. For the last 6 years, she had dedicated most of her time and study to human connection and how brilliantly the body is designed. Lu, a former division 1 soccer player for Saint Mary's, is one of the OG's of CrossFit and once owned one of the first 200 affiliates in the US. Her passion goes beyond her degree in Exercise Physiology and loves connecting the dots between science and application. Shantell and Lu currently own and operate Dropgym an all-women's gym in Southern Oregon. They hold weekly classes as well as extensive weekend workshops and week-long intensives.
In their seminar, they are bringing down the house with a dynamite workshop that will leave you curious about your body and make you wonder about your potential. Their unique approach to moment and connection will, no doubt, be entertaining, informational, and DEEP. Come prepared to:
| | |
| --- | --- |
| ▪ | Get a great workout. (All fitness levels) |
| | |
| --- | --- |
| ▪ | Learn ways to connect your mind and your body through breath. |
| | |
| --- | --- |
| ▪ | Gain tools to help lower and release stress without creating more. |
| | |
| --- | --- |
| ▪ | Know the difference between your flexibility and mobility. |
| | |
| --- | --- |
| ▪ | Learn to be present and how to listen to your body. |
This seminar is open to ITC participants of all ranks and to their guests.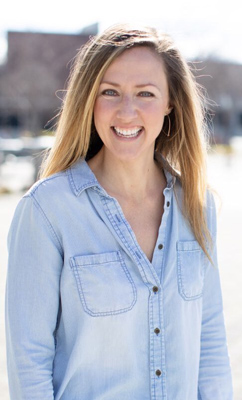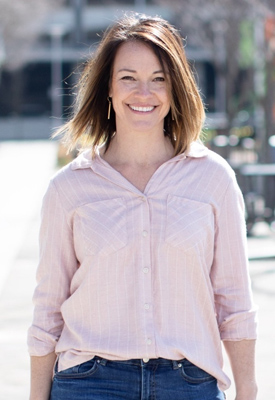 YOUTH SEMINARS
RICK PRIETO - Black Belt #42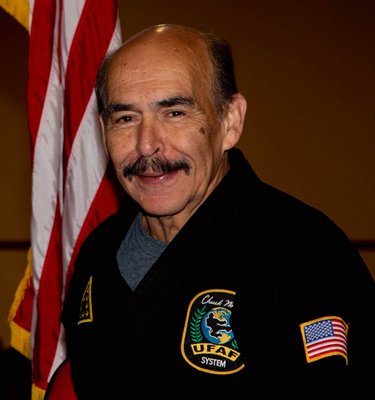 I Started Karate with the Chuck Norris Studios in Nov. 1968 in Sherman Oaks, CA and got my 1st Degree Black Belt in Feb. 1972. I started assisting a little in class within the first 6 months because my 40-50 hrs. of training per month gave me the knowledge to help new students, I've been assisting or teaching ever since.
I became Head Instructor at the Granada Hills, CA studio and soon after Aaron Norris came in as Program Director to manage the office, he and I lived together on and off for about 8 years.
Aaron Norris and I went to Virginia in 1974 to start and run the Chuck Norris Studio in Norfolk and I ended up staying for 7 years. We started a 2nd studio, after about 2 years, in Virginia Beach. We brought in Mr. Ed Saenz and Mr. Raul Hernandez to help. As a result, Mr. John Kurek, Mr. Robert Sapp, and Mr. Roy White, who were our students, became some of our most amazing students and instructors.
I've done several films with Mr. Norris and some Walker Texas Ranger shows, along with several demonstrations including the opening for Bruce Lee's 'Enter The Dragon' at the Grauman's Chinese theater in Hollywood.
I got my first 2 trophies at Mr. Norris' 4 Seasons Tournament from Bruce Lee. Mr. Norris, Mr. Bob Wall, Mr. Mike Stone, and Bruce Lee put on the tournament. I eventually went back to CA. and started my own studios, one in Tarzana and one In Studio City. While in CA. I worked out with Mr. Norris 5-6 days a week for 3 - 3.5 hrs. every day except Sunday for years, so we have quite a history together.
I started doing more films when I got back to CA. but then Mr. Norris asked if I could help with the 'Kick Drugs Out Of America' program, now called Kickstart, in Houston. So after about 7 years in CA., I moved to Texas, where I kicked off the Kick Drugs Out Of America program in Houston and worked it for 3 ½ years after which Mr. Saenz took over.
I started a Karate School in 1990, in the Woodlands, TX, where I still live, and still teach daily.
I started with BJJ in 1988-89 and incorporated it into my classes ever since and now also teach Krav Maga after earning my Krav Maga Black Belt in Dec. 2017.
After 50+ years I still love what I do and am learning all the time.
THE ELEMENT OF SURPRISE STREET VS TOURNAMENT
This youth seminar will cover two very different ways to get the advantage for a street confrontation and in a tournament fight.
In a tournament, you agree to battle it out with another fighter. There are rules that you must follow, certain areas of the body that you can score on, a time limit, referees, and so on. You must have a strategy and know what techniques will work best to give you an advantage.
In the street, (school, park, or wherever), if you are confronted with a battle and you can't get away or talk your way out, you must have a different strategy.
In a tournament, you fight someone who is your same belt level and age.
In the street you don't get to chose your opponent ... bigger, smaller, older, younger, prettier, uglier ... IT IS NOT A TOURNAMENT FIGHT. This seminar will help you learn how to have a better chance to survive.
There are many different fighting techniques that can be used in the street but not used in a tournament, so you must be prepared for whatever happens.
Mr. Prieto was one of Mr. Chuck Norris' training partners, 3 ½ hours a day, 6 days a week, for many years, and was the fight coordinator for many of his films.
Wrasslin' the Bully With Austin Jamieson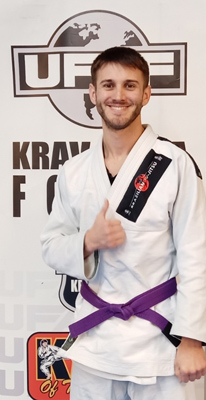 In this Brazilian Jiu-Jitsu seminar, youth participants will be taught how to control their bullies and show them who is boss. This can be accomplished without even hurting them!
We will learn how to take our bullies down, the best positions to hold them and how to defend what they are most likely to use against you.
Austin Jamieson is a 5th Degree black belt in the Chuck Norris System and a Purple belt in UFAF BJJ. He has been teaching for 15 years and has been involved in stand-up and ground martial arts for over 20 years.
Build a Creative Kata with Britini D'Angelo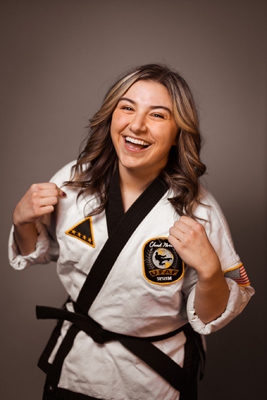 Britini D'Angelo is a 4th-degree black belt in the Chuck Norris System under Master John Presti. She has been practicing karate for over 13 years and competing for over 11 years. She is a three-time World Champion at the ITC tournament, winning titles in both Open Kata & Weapons divisions.
Most recently, she was part of Big Brother Season 23 on CBS, where she was Juror #1 and cast a vote for the winner of the season. During the season finale, Julie Chen Moonves gave Britini the floor. There, on a national platform, she revealed that not only was she a 4th-degree black belt, but that she has Autism. Her goal is always to promote Autism acceptance and help end the stigma surrounding it. Since then, she has been featured in Forbes, Black Belt Magazine, Dance Teacher, Girl Talk HQ, and many other platforms.
BUILDING A CREATIVE KATA FORMAT!
Have you ever tried to make up your own form before? It's SO much fun to do, but sometimes it can definitely be a challenge!
In this seminar, youth participants will be working together in teams to create and structure their own creative form! We are going to lay the groundwork on how to create a form, as well as give students skills, drills, and tools they can use to help piece their forms together!
Students will leave with a complete creative form, as well as the skills necessary to refine it and make it their own. Get ready to be creative & show off the skills you love doing most! It's going to be an absolute BLAST!